News Detail
UnitedHealthcare Celebrates Asian Health Benefits Resource Center's Tenth Anniversary in Alhambra
UnitedHealthcare Press Center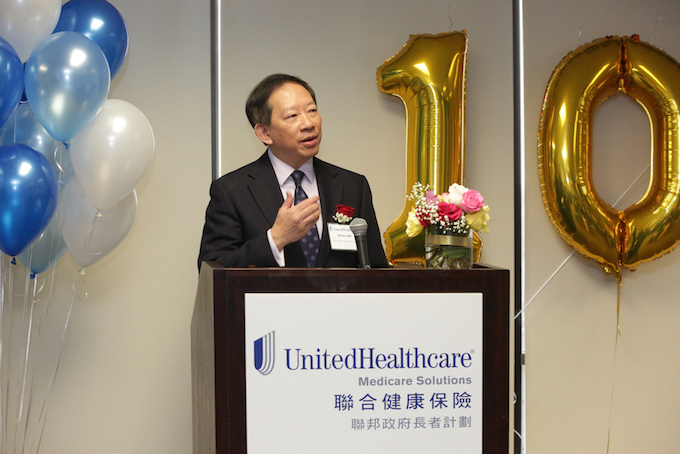 UnitedHealthcare Alhambra Asian Plaza offers customer service, health education, and other support to Medicare plan participants
The Asian Plaza, located at 30 West Valley Blvd. in Alhambra, is open year-round
UnitedHealthcare celebrated the tenth anniversary of its Asian Health Benefits Resource Center in Alhambra, which brings personalized health care benefit support services to Chinese Americans in the community.
The center, which originally opened in 2008, serves the health care needs of Chinese-American Medicare beneficiaries in the greater Los Angeles and Orange County area, providing residents with information about Medicare and UnitedHealthcare's Medicare plans as well as customer service support. At this 2,362-square-foot consumer support center, visitors can meet with customer service professionals to discuss their health benefits in English, Cantonese or Mandarin. If they are ready to enroll in one of UnitedHealthcare's Medicare plans, they can do so right at the store with the help of a licensed sales agent.
Community leaders and UnitedHealthcare executives gathered to celebrate the store's tenth anniversary with a special ceremony.
"UnitedHealthcare's Asian Plaza store provides people with simple, personalized information and resources they need to make good health care decisions for themselves and their families," said Christopher Law, national vice president, UnitedHealthcare's Asian Initiatives. "We look forward to more opportunities to collaborate with community leaders to help improve the health of Medicare beneficiaries and the broader community."
In addition to serving the needs of Medicare-eligible residents, UnitedHealthcare also hosts public health education events at the Asian Plaza on topics such as Medicare basics, nutrition, social services and disease management.
UnitedHealthcare was one of the first health insurers to establish customer support storefronts when it opened the Chinatown Asian Plaza in New York City in 1994 to provide culturally relevant health care services to the Chinese-American community. The UnitedHealthcare Asian Resources Centers have evolved to provide a broad range of customer service, social needs and health care support to address cultural, socioeconomic and other needs in communities, including New York, New Jersey, Texas, and California.
In addition to Alhambra, UnitedHealthcare has a storefront in the Koreatown neighborhood of Los Angeles, along with the newly opened Buena Park Asian Resources Center located in Orange County.
UnitedHealthcare serves more than 3 million Californians, including more than 1.2 million Medicare beneficiaries, with a care provider network of 390 hospitals and more than 100,900 physicians and other health care professionals statewide. The company's care provider network includes nearly 800 Asian-American physicians who provide culturally and linguistically appropriate care and support to Asian-American plan participants throughout the state.
About UnitedHealthcare
UnitedHealthcare is dedicated to helping people live healthier lives and making the health system work better for everyone by simplifying the health care experience, meeting consumer health and wellness needs, and sustaining trusted relationships with care providers. In the United States, UnitedHealthcare offers the full spectrum of health benefit programs for individuals, employers, and Medicare and Medicaid beneficiaries, and contracts directly with more than 1.2 million physicians and care professionals, and 6,500 hospitals and other care facilities nationwide. The company also provides health benefits and delivers care to people through owned and operated health care facilities in South America. UnitedHealthcare is one of the businesses of UnitedHealth Group (NYSE: UNH), a diversified health care company. For more information, visit UnitedHealthcare at www.uhc.com or follow @myUHC on Twitter.
Contact
UnitedHealthcare
Catherine Farrell
714-226-4247
Catherine.Farrell@uhc.com